on September 29, 2013in Kids, Teenagers, Adolescence, Adulthood, & Parenting, Spiritualitytags: Affirmations, desire, Eckhart Tolle, ego, i wish, Live in the now, subconscious, this is my desire, understanding desireswith No Comments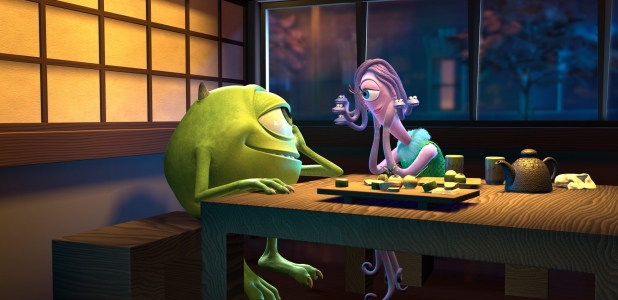 I love the movie Monsters, Inc. My youngest daughter is now 4 years old, and we've watched it over and over again.
A great pic of Celia Mae (voice of Jennifer Tilly) and Mike Wazowski (voice of Billy Crystal)
It's enlightening to see Celia prepare herself for her boyfriend, Mike. Once at the restaurant, they giggle and chat with mutual googly eyed admiration.
As you read the excerpt, remember that they both have only one eye, and Celia's hair is made of snakes!

Celia: Oh, Michael, I've had a lot of birthdays – well, not a lot of birthdays but this is the best birthday ever.
[Mike stares lovingly at her]
Celia: What are you looking at?
Mike: I was just thinking about the first time I laid eye on you, how pretty you looked.
Celia: [shyly] Stop it.
Mike: Your hair was shorter then.
>Celia: Mm-hmm. I'm thinking about getting it cut.
[the snakes in Celia's hair squeal with fear]
Mike: No-no, I like it this length.
[the snakes sigh in relief]
It's wonderfully humorous and ridiculous while unfolding a stark truth about the human race.
If you look at people, you realize that we are all a bunch of monsters! We are like aliens, or animals. We have different sized and shaped heads, moles, hair that sticks up, or out, or curls; long dangling arms and legs. We have lips and tongues that move in hundreds of ways making sounds, and eyeballs that dart back and forth. We've sewn cloth to cover our bodies, we stand and step our feet to move about. We put plants and things in our mouths and chew and swallow, and then defecate later.
From a purely physical point of view, we look like a different species of animal. Of which the physical body is!
If we can appreciate the truth of the ridiculousness of our physical appearance and animal existence, we can let go of the illusion of sexiness.
Men, I hate to break it to you, but women fart. They burp. They poop and pee. They have periods and bleed! And we men have all of those things, also. Except of course when we get our period, we don't bleed. 🙂
Realize the ridiculous in our animal nature, and move onward and upward, paying deeper attention within, breathing and knowing that you are more than what you look like.
Look to the Spiritual, the Divine, God, for true fulfillment and happiness.
Peace.