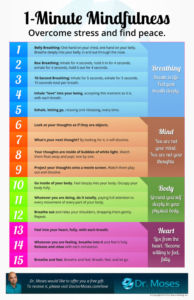 Overcome stress and find peace.
Breathing: Breath is life. Feel your breath deeply.
Belly Breathing: One hand on your chest, one hand on your belly. Breathe deeply into your belly, in and out through the nose.
Box Breathing: inhale for 4 seconds, hold it in for 4 seconds, exhale for 4 seconds, hold it out for 4 seconds.
10-Second Breathing: Inhale for 5 seconds, exhale for 5 seconds. 10 seconds total per breath.
Inhale "love" into your being, accepting this moment as it is, with each breath.
Exhale, letting go, relaxing and releasing, every time.
Mind: You are not your mind. You are not your thoughts.
Look at your thoughts like they are objects. You are not your thoughts.
What's your next thought? (Looking for it, it will dissolve.)
Your thoughts are inside of bubbles of white light. Watch them float away and pop!, one by one.
Project your thoughts onto a movie screen. Watch them play out and dissolve.
Body: Ground yourself deeply in your physical body.
Go inside of your body. Feel deeply into your body. Occupy your body fully.
Whatever you are doing, do it totally, paying full attention to every movement of every part of your body.
Breathe out and relax your shoulders, dropping them gently. Repeat.
Heart: Live from the heart. Become willing to feel, fully.
Be willing to feel. Feel into your heart, fully, with each breath.
Whatever you are feeling, breathe into it and feel it fully. Release and relax with each exhalation.
Breathe and feel. Breathe and feel. Breath, feel, and let go.