on May 16, 2014in Blog, Journaling Exercises, Living A Creative Lifetags: acting, artists way, chef, Creativity, follow your heart, inspiration, iron man, jon favreau, swingers, vince vaughnwith No Comments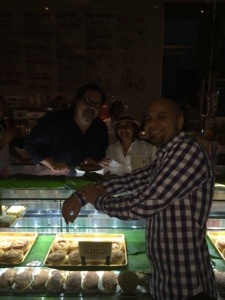 Hi!
Last night I drove into LA to try and see one of my favorite actors.
I'd been wanting to meet him for about 4 years! I was extremely nervous, planning what I would say to him and rehearsing over and over in the car.
Once I got to the hotel (The Line), valet took my car. I walked in praying that he hadn't left yet- it was already 10:00, and it started at 8.
I walked in slowly, there were people everywhere. It was a bar and restaurant scene, with a DJ playing music. He had just came out with a new movie, Chef, so this was a celebration of the movie and of the food.
There in the corner, with the DJ, was Jon Favreau! I was ecstatic! I couldn't believe it finally happened! I waited in a short line and within minutes I was telling him how his first movie inspired me and changed my life, helping me to pursue acting and the creative arts.
When's the last time you felt inspired? 
We are all creative beings. Creativity is part of our Human Nature, as Light Beings. The Creative Force is constantly moving us to higher ways of living, loving, and thinking.
We all need to nurture that creativity. We tend to forget that we are massive, creative light beings, filled with Light and Love. We go on and on in the daily grind, leaving ourselves behind.
A few years ago I made a commitment to myself to follow my highest aspirations and follow the calling in my heart.
Complete this sentence:
If I followed my heart and deepest passion, I would _______ 
Leave a comment here with your answer! I read every response, and I'm excited to hear from you!
Love,
Dr. Moses.