on July 2, 2016in Exercisewith No Comments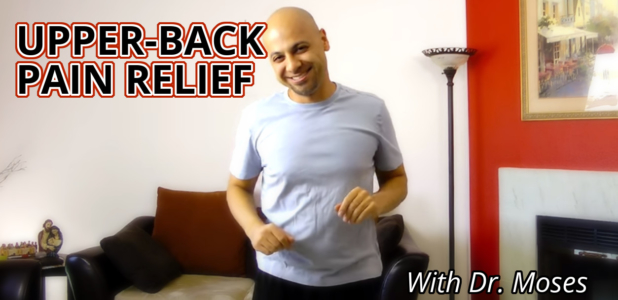 Do you get upper-back pain? I do! And I have another wonderful stretching video for you!
I do these when my upper back feels tight.
They are four quick and simple stretches that'll take you a whole 2 minutes to do.
You can do these:
In the morning, to loosen up those tight upper back muscles from sleep.
During breaks at work — especially if you have a desk job.
Benefits of these stretches:
Stretch your "thoracic spine," (your upper back)
Strengthen your paraspinal muscles (the muscles that run along your spine)
Open up the joints of your spinal vertebrae, the joints that hold your spine together
Get some circulation (nerve and blood) to your heart, lungs, and stomach

Improving your ability to take a deep breath
Get more oxygen to your body
Relax your heart beat
Improve digestion in the stomach
Thank you for watching!
If you enjoy the video, please share it on Facebook (the link is called "Share" in the comment section below) so others can benefit from it.
Love,
Dr. Moses