Immunizations and Alternative Vaccination Schedules
I have been researching the vaccination debate for years now. While I would love to avoid vaccinations all-together, the reality is that some of these diseases are life threatening, and it may be prudent to vaccinate.
Always remember that we are not cattle, and vaccination can never be required! It is a health choice that we must make. Don't ever let anyone convince you otherwise!
We did some research on alternative vaccination schedules, and here is some great information we came up with.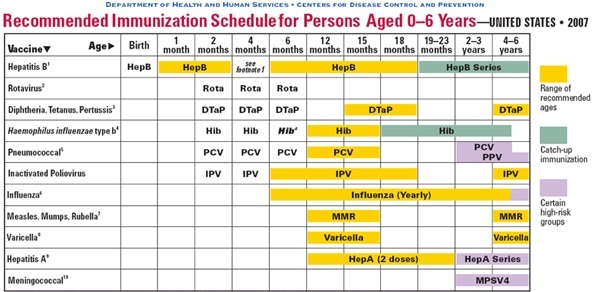 Figure 1: Current CDC recommendations for vaccination scheduling
This schedule indicates the recommended ages for routine administration of currently licensed childhood vaccines, as of December 1, 2006, for children  aged 0-6 years. Additional information is available at http://www.cdc.gov/nip/recs/child-schedule.htm. Any dose not administered at the recommended age should be administered at any subsequent visit, when indicated and feasible. Additional vaccines may be licensed and recommended during the year. Licensed combination vaccines may be used whenever any components of the combination are indicated and other components of the vaccine are not contraindicated and if approved by the Food and Drug Administration for that dose of series. Providers should consult the respective Advisory committee on Immunization Practices statement for detailed recommendations. Clinically significant adverse events that follow immunization should be reported to the Vaccine Adverse Event Reporting System (VAERS). Guidance about how to obtain and complete a VAERS form is available at http://www.vaers.hhs.gov or by telephone, 800-822-79673.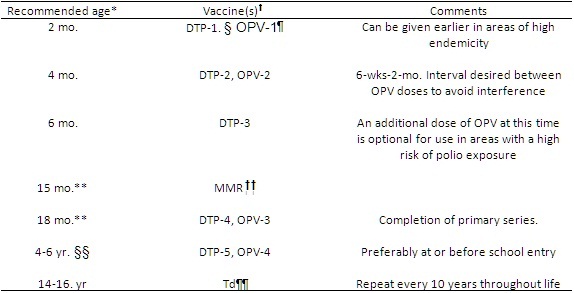 Figure 2: CDC recommendations for vaccination scheduling in 1983
*These recommended ages should not be construed as absolute, i.e. 2 mos. can be 6-10 weeks, etc.
†For all products used, consult manufacturer's package enclosure  for instructions for storage, handling and administration. Immunobiologics prepared by different manufacturers may vary and those those of the same manufacturer may change from time to time. The package insert should be followed for a specific product.
§DTP – Diphtheria and tetanus toxoids and pertussis vaccine.
¶OPV – Oral, attenuated polio-virus vaccine contains polio-virus 1, 2 and 3.
**Simultaneous administration of MMR, DTP, and OPV is appropriate for patients whose compliance with medical care recommendations cannot be assured.
††MMR – Live measles, mumps and rubella viruses in a combined vaccine  (see text for discussion of single vaccines versus combination).
§§Up to the seventh birthday.
¶¶Td – Adult tetanus toxoid and diphtheria toxoid in combination, which contains the same dose of tetanus  toxoids as DTP  or DT  and a reduced dose of diphtheria toxoids.
Dr. Robert Sears wrote the "Vaccine Book: Making the right decision for your child"
The "Selective Vaccine Schedule" omits certain vaccines, while the "Alternative Vaccine Schedule" stretches out the traditional one. The following are his recommendations:
1) Dr. Bob's Alternative Schedule:
Dr. Bob's Alternative Vaccine Schedule Regular Vaccine Schedule
2 months – DTaP, Rotavirus
3 months – HIB,PC
4 months – DTaP, Rotavirus
5 months – HIB,PC
6 months – DTaP, Rotavirus
7 months – HIB, PC
8 months – Flu
9 months – Polio Flu
Birth – Hep B
1 month – Hep B
2 months – DTaP, Rota, JIB, PC, Polio
4 months – DTaP, Rota, JIB, PC, Polio
6 months – DTaP, Rota, JIB, PC, Polio, Hep B, Flu
7 months – Flu
(two  doses of Flu vaccine are given during a baby's first year in October and November once a baby is at least 6 months old; I list it at 8 and 9 months, but they can be given as early as 6 and 7 months)
Dr. Bob's Alternative Schedule
12 months – Polio, MMR (optional – see discussion)
15 months – HIB, PC
18 months – DTaP, Chickenpox
2 years – Polio, yearly flu shot (now thru 18)
2 1/2 – 4 years – work in Hep A and B series
5 years – DTap, Polio
6 Years – MMR and Chickenpox boosters
(optional: blood testing can be done to see if these boosters are needed)
Regular Vaccine Schedule
12 months – MMR, Chickenpox, Hep A
15 months – HIB, PC
18 months – DTaP, Hep A
2 years – yearly flu shot (continiung now through age 18)
5 years – DTap, Polio, MMR, Chickenpox
2) Dr. Bob's Selective Vaccination Schedule (takes out Polio, Flu, MMR at 12months, and chickenpox vaccines):
2 months – DTaP, Rotavirus
3 months – Pc, HIB
4 months – DTaP, Rotavirus
5 months – Pc, HIB
6 months – DTaP, Rotavirus
7 months – Pc, HIB
15 months – Pc, HIB
7 years – Tetanus booster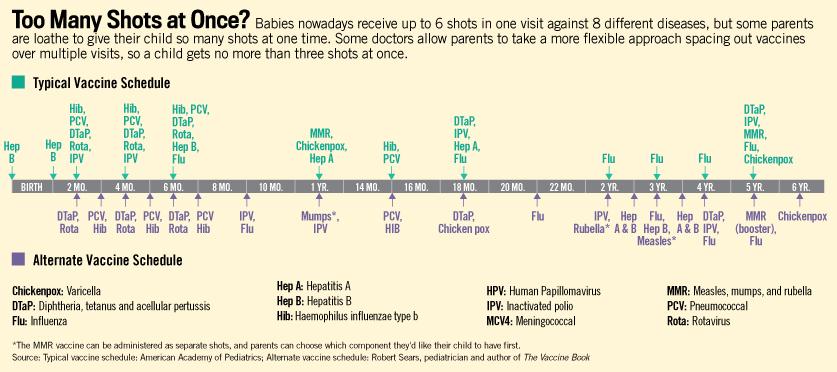 Figure 3: Alternative vaccination schedule
Facts:
The average child in America receives 32 vaccines within the first 2 years of life.
Seven vaccines in a 13 pound, two-month old infant are equal to 70 vaccines in the 130-pound adult.
50 years ago the immunization schedule contained only 4 vaccines:
Diptheria
Tetanus
Pertussis
Smallpox
In the last 50 yrs:
Type 1 diabetes rates in children have increased 15X
  Asthma incidence has increased 4X
Autism rates have increased from 1/10,000 to 1/100 children
Juvenile rheumatoid arthritis went from being virtually nonexistent to now afflicting 250,000 individuals.
Also, in the last 50 years:
 Cases of measles reported went from 482,000 to 56 cases in 2003.
The leading cause of death in children less than 5 years old has changed from infectious causes (diptheria, measles, scarlet fever, mumps) to accidents, SIDS, and cancer.
In 2002, the New England Journal of Medicine published a study from Denmark in which the authors concluded that "this study provides strong evidence against the hypothesis that MMR vaccination causes autism."
The NEJM did not report that three of the authors worked for-profit for the Statens Serum Institute (which is among Denmark's largest vaccine manufacturing corporations. This is typical for medical journal articles.
Nevertheless, in the present times where Evidence-Based Medicine is now the pivotal factor in patient care, neutral studies are often difficult to fund secondary to minimal government funding.
All 50 states require the following immunization for children to be enrolled in school:
Hib
Polio
Rubella
Measles
49 states also require vaccination against tetanus.
47 states also require vaccination against Hep B and Mumps.
10.  43 states also require vaccination against chickenpox.
11.  However, all states allow exceptions for such immunizations for reasons of medical exemption and 47 states allow exceptions for religious reasons.
Considerations:
Most rapid period of brain development occurs within the first two years of life. By the time a child reaches the age of two, the size of their skulls have reached their adult size.
Increase incidence of broad spectrum and multiple diseases in the last 50 years may very well be attributed to better screening techniques, protocols, and growth of knowledge in the medical field.
Many individuals who refuse immunization are protected from herd immunity of the masses. When multiple individuals refuse vaccination, many outbreaks are seen such as the pertussis outbreak in California in 2010 and Measles outbreak in 2011.

 9,143 cases of pertussis were reported in California in 2010 including 10 infant deaths. This resulted in the highest incidence of pertussis since 1947 at 9,394 cases.
In 2011, 118 cases of Measles were reported in the United states, the most since 1996. Due to the severity of the disease, 40% of afflicted individuals were hospitalized.
Worldwide considerations:
 The #1 cause of death in children less than 5 years of age WORLDWIDE is infection.  Most of which are preventable by vaccines.
For example, Measles is one of the leading causes of death among young children even though a safe and cost-effective vaccine is available.
In 2008

  In 2008, there were 164 000 measles deaths globally – nearly 450 deaths every day or 18 deaths every hour.
Measles vaccination resulted in a 78% drop in measles deaths between 2000 and 2008 worldwide.

In 2008, WHO estimated that 1.5 million deaths among children under 5 years were due to diseases that could have been prevented by routine vaccination.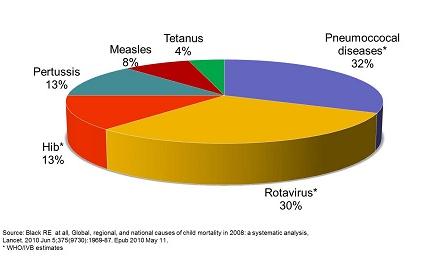 Figure 4: Annual deaths attributable to infectious diseases in children 0-5 years old
Jourdan Ritchey, OMS III